Aerial photogrammetry has come a long way fast thanks to modern drones. More companies are embracing the value of working with aerial mapping companies – especially clients who need to perform regular aerial survey overflights for compliance or maintenance purposes.

We're often asked: "What's coming next in industrial drone service?"

Nobody can predict the future, but here's the

Eye-bot Aerial Solutions

take:

More Versatility Through Better Regulations

As with many new technologies, drone capabilities are evolving fast and regulators are hard-pressed to keep up. Aerial photography and drone mapping can become even more efficient and powerful – but their full power can only be unleashed by relaxing restrictions on airspace, line of sight, and other issues. Luckily, as drones become safer, laws can have a lighter touch.

More Widespread Use of Thermal Imaging

Thermal imaging allows drones to "see in the dark," extending aerial photogrammetry into the non-visible spectrum. Thermal imaging has been used for search and rescue, firefighting, and more. As these cameras become smaller and more sophisticated, they can be used to monitor air quality, gas detection, and preventive maintenance needs.

AI-Based Project Management

Drones already have a tremendous amount of processing power under the hood. When collecting aerial photogrammetry data or performing aerial survey, they process and store huge amounts of information. With on-board AI, the day might come when they can practically fly themselves: Easily choosing the most efficient flight path for the job and adapting to the unexpected.

Better Industrial Integration

What would it mean if an industrial drone service was fully integrated with your network, sensors, and equipment? We think it would be pretty cool – and save you a lot of money. As more machinery is woven together in a responsive tapestry of industrial automation, AI-enabled drones will be able to support manufacturing and mining with new data on demand.

No matter what the future of drones holds, Eye-bot Aerial Solutions will be there every step of the way. We are the industrial drone service that strives to bring you the future today.

For more information or to request a quote,

contact us

.
Powered by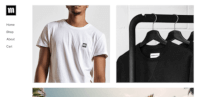 Create your own unique website with customizable templates.