​Drone mapping services are revolutionizing industrial project management by giving PMs a "bird's-eye view" of their entire project site. That not only provides useful, actionable data, but all the visual context they need to communicate with stakeholders and orchestrate operations.

From humble beginnings,

aerial photogrammetry

is fast becoming a solution to some of the most vexing project management challenges. That's especially true for large, complex projects that span vast geographies – traditionally some of the toughest to bring in on time and under budget.

​

Drone mapping services can:

Accelerate Project Startup


Aerial photogrammetry provides complete information about your project site from the start so you can avoid unwanted surprises later on. That supports sound, safe

construction

that passes every test – from breaking ground to final inspection.

Simplify Environmental Compliance


Industrial projects navigate a complex web of environmental safety standards. Drone mapping services are the key to establishing practices aligned with your unique needs. You can monitor environmental impact and demonstrate compliance with ease.

Ensure Safety for Team Members


Safety is essential for industrial projects. You want everyone to do their best and go home at the end of the day safe and sound. Weather, natural disasters, wildlife, and more all contribute to risk. With drone mapping services, those hazards don't go unseen.

Improve Day-to-Day Operations


Aerial photogrammetry can supply valuable information to teams on the ground. For example, drone overflights can keep track of inventory so resources are less likely to be misplaced or go accounted for. That means less searching and more doing.

Enhance Reporting Accuracy


The best UAV service providers synthesize aerial photogrammetry data into a total picture of your project. That can be reviewed from beginning to end in the form of a visual timeline you can share with any stakeholder at the push of a button.

All industrial projects have challenges, but overcoming them – and even foreseeing them in advance – has never been easier than it is with drone mapping services. All around the United States, construction firms, utilities, and telecoms have already saved billions.

To learn more,

contact Eye-bot Aerial Solutions

today.
Powered by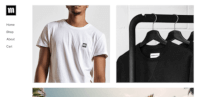 Create your own unique website with customizable templates.